Exhale CO2 bags use mycelium (think mushrooms) to slowly release CO2 Carbon Dioxide for the plants to breathe. 1 bag will do around 1 to 1.5 square meters.
From the inventors of the Original CO2 Bag, ExHale is proud to introduce the ExHale 365 series of CO2 bags.
The ExHale 365 is designed to allow CO2 to be available where you need it and when you want it.
With the same award-winning genetics, you can be guaranteed your garden will have the CO2 it needs.
Our multi patent-pending design utilises a separation seam that allows our spawn pod to remain active and also
allows for specific timing for CO2 production.
Plants should do everything faster because CO2 is a key component in photosynthesis. Flowering should be much better. Rooting and growing should all be improved.
Locate the bag away from the exhaust fan but high enough to be distributed around the growing area. CO2 is heavier than normal air so will tend to drop to the floor. Placing the bag so the CO2 will fall into the line of the inlet fan or circulation fan will help distribute it. Otherwise plants directly under the bag may leave the rest of the room behind when they grow into monsters.
How It Works
Photosynthesis is the process by which plant leaves make carbohydrates. Sunlight, CO2 and water are converted into carbohydrates and O2 by the action of chlorophyll in the chloroplasts of the plant. Plants growing indoors under artificial light often lack enough CO2 to efficiently photosynthesize. When plants are able to maximize the process of photosynthesis, the result is larger plants with larger yields.
ExHale cultivates CO2 24 hours a day with no need to refill bottles or use expensive CO2 production units. The power of ExHale lies in the mycelial mass inside the vented cultivator. This mycelial mass cultivates CO2 and the microporous breather patch releases CO2 continually for up to 6 months.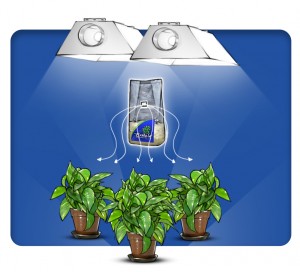 The ExHale Cultivator is designed for small to medium grow spaces , or more specifically 1 ExHale Cultivator will provide 4-6 plants with the CO2 they need. ExHale can be used for both vegetative plant growth as well as for fruit and flower production.
How to Use ExHale
ExHale comes complete and is cultivating CO2 even before you get out of the checkout line. No need to turn it on or turn it off, simply place ExHale in your grow space and leave it alone to do its job.
A continuous shower of CO2 directly onto your plants is the most efficient way to deliver CO2. Placing the ExHale Cultivator slightly above the level of your plants will insure they receive the CO2 they need 24 hours a day for up to 6 months.
Talk to staff about location and fan size. we want to avoid sucking all the CO2 out too quickly - so some thought should go into where the bag is located and how the room is set up.

Retailers and End-Users love the ExHale 365!
With a guaranteed 3 months of distribution and shelf life, the ExHale 365 will be ready when you are.
Once CO2 initiation has occurred, CO2 production will begin in earnest with peak CO2 production beginning after 30-45 days.
CO2 will continue to be released for the remainder of 9 months. With 3 months of shelf life and 9 months of CO2, you've got yourself a Year!!
That's the ExHale 365!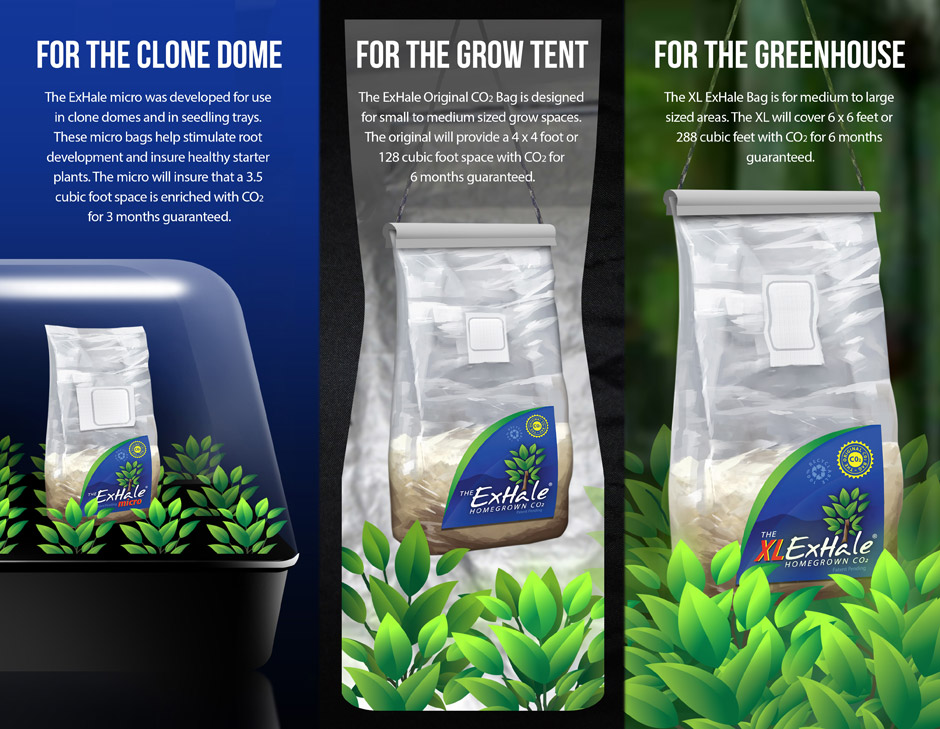 (EXHALE_XL)
| | |
| --- | --- |
| SKU | EXHALE_XL |
| Shipping Weight | 4.0000kg |
| Shipping Width | 0.280m |
| Shipping Height | 0.250m |
| Shipping Length | 0.160m |
| Shipping Cubic | 0.011200000m3 |
Be The First To Review This Product!
Help other Simply Hydroponics users shop smarter by writing reviews for products you have purchased.